A natural soap-free face wash with salicin to hydrate and refresh the skin
Regular price
Rs. 550.00
Sale price
Rs. 300.00
Unit price
per
Sale
Sold out
View full details
What You Will Love

Soap-free formula which leaves the skin soft not stretched. Cleanses the skin gently removing dust, sweat and make-up from the skin. Brings hydration to the skin due to the presence of Aloe Vera. Brightens and lightens pigmentation due to the presence of Manjishtha.
Full Description

This soap-free formulation features reetha (soapnut) a plant-based alternative to soap which leaves the skin feeling soft and supple after use. Along with aloe vera, it removes dirt and impurities from the skin without stripping the skin of moisture as harsh soaping agents normally do. Ayurvedic favourite, Manjishtha lightens hyperpigmentation and gives the skin an even tone while Salix Alba Bark Extract (Willow Bark) which is known to possess salicin, the natural alternative to Salicylic acid, reduces signs of premature ageing. Power packed with ayurvedic herbs, this facewash, reduces the appearance of enlarged pores and is fragrance-free making it ideal for those having sensitive or acne prone skin.
How To Apply

Wet face with water, Apply product over face using small circles, rinse with clean water and pat dry.
All Ingredients

Aqua, Lauryl Glucoside, Aloe Leaf Extract, Manjishtha Extract, Reetha Extract, Lemon Peel Extract, Salix Alba Bark Extract Propanediol.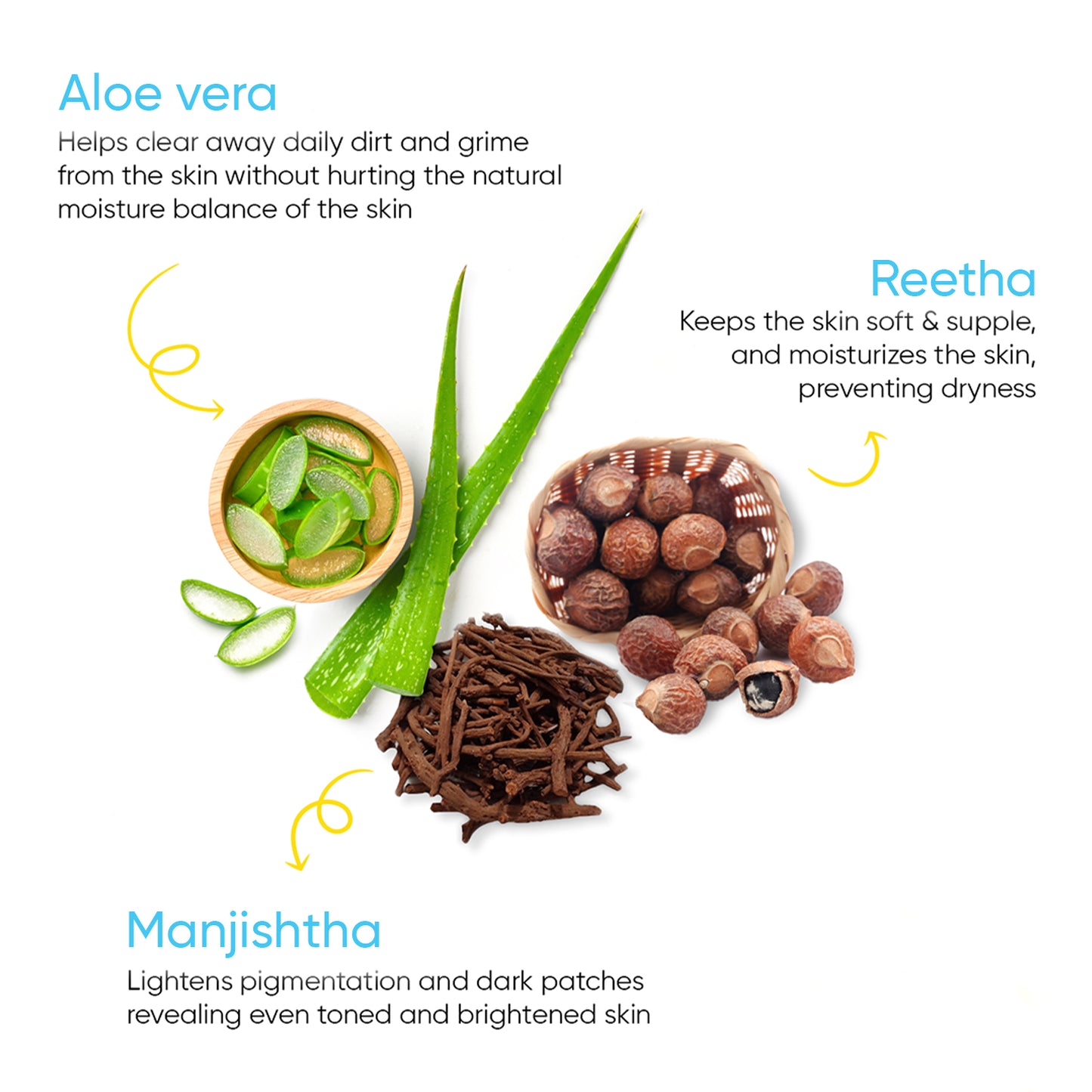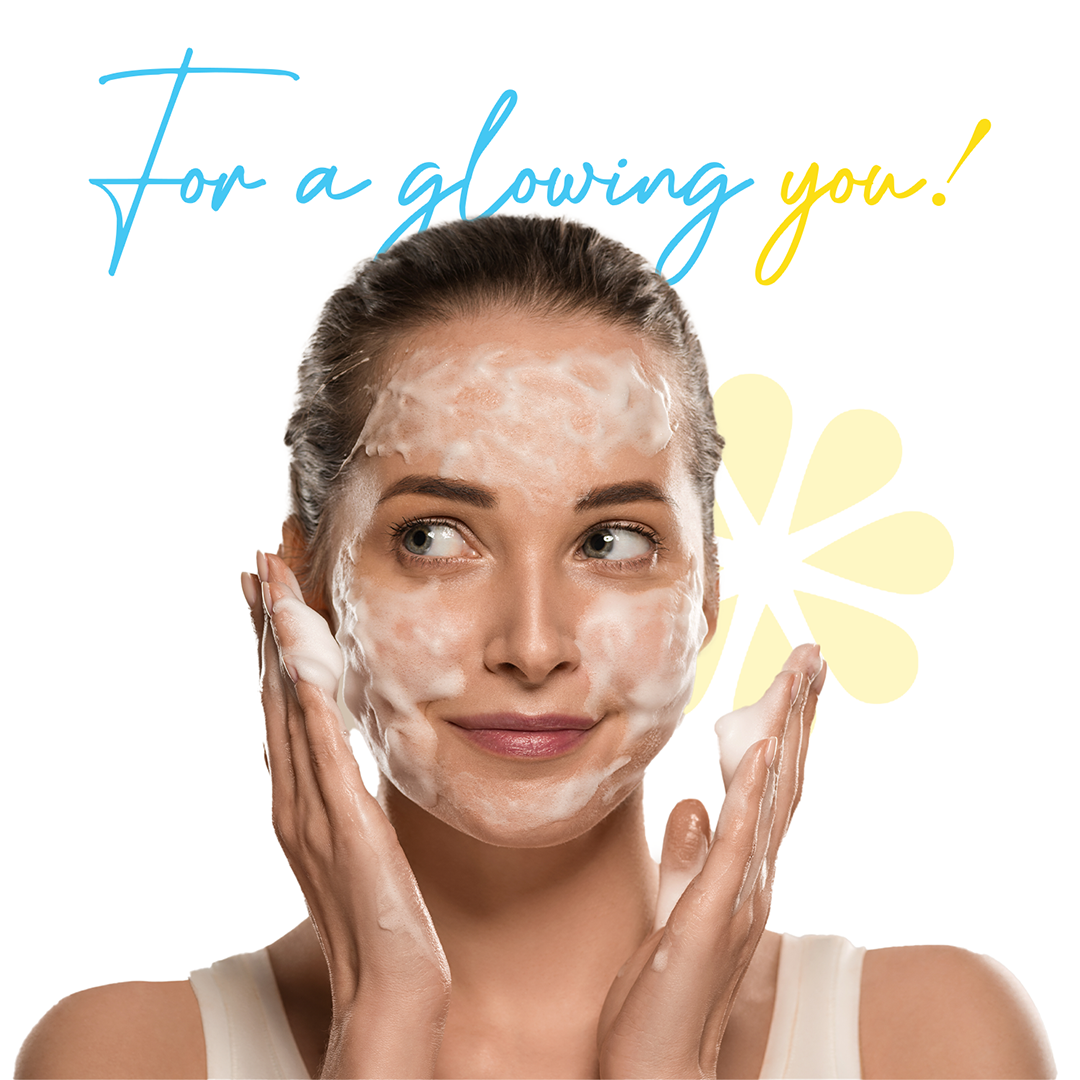 According to Ayurveda, Aloe Vera is capable of keeping the skin looking youthful and supple which is why it is known as 'Ghrit Kumari', a young girl. It lightens dark spots and scars due to the presence of many essential compounds. Contains salicylic acid, known to exfoliate and renew the skin.
×
A well-known Ayurvedic herb used to treat Psoriasis and skin infections. Is also favoured for its ability to lighten hyperpigmentation, dark spots and blemishes. Helps renew the skin from the effects of pollution and smoke by restoring vitality and youthfulness.
×
An ancient plant-based alternative to soap. Used in India for generations to clean the skin and hair gently and effectively. Has strong skin moisturizing properties and is able to clean and moisturize at the same time. Heals pimples quickly and removes blackheads gently.
×
Salix Alba (Willow) Bark is a plant extract that contains salicin, a gentler alternative to the popular salicylic acid (BHA). It slows down signs of premature ageing by smoothing fine lines and wrinkles. Especially good for those having oily skin as it balances oil secretion in the skin. Minimizes the appearance of enlarged pores.
×
Our Story
"Our ingredient-driven formulas are carefully crafted while
keeping in mind global clean beauty standards, because quite frankly, beauty
should not cost you your health! We believe in plant-based, botanical solutions
to maintain healthy-looking, supple, luminous skin and we hope you will join us
in nurturing and caring for your skin with our clean and safe products."
- Aditi M. Gaur, Founder